Home
Educating Tomorrow's Laboratory Investigators
Welcome to the wonderful world of medical laboratory science. Did you know that over nine billion laboratory tests are performed in the U.S. each year? Lab testing is increasing in demand due to:
the population aging,
earlier detection and diagnosis of diseases,
the explosion of new technologies,
a resurgence of old diseases and discoveries of new diseases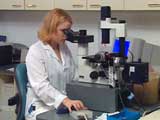 Laboratory education programs range from on-the-job training to the medical doctor who specializes in the field of pathology. National certification examinations are required for most of the laboratory professions.
Career Outlook: GREAT! Shortages in all areas (except pathologists) are both national and international. These shortages are expected to continue in the next ten years meaning that jobs will be readily available every where. Salaries are increasing. (Occupational Outlook Handbook)
Work environment: Fast paced and sometimes stressful. Handling potentially infectious materials. This is a risk that students are taught to manage with proper techniques and protective equipment.
Qualities needed for success: Detail oriented, good organizational skills, accuracy and precision, neatness, team player.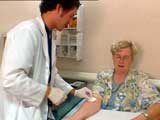 Patient interaction: Varies. Phlebotomists have a great deal of patient interaction. Depending on where professionals work, they may have a moderate amount of patient interaction in a small physician office laboratory, or may have very little patient interaction in a large, medical center laboratory.
Daily tasks: In general, all laboratory professionals perform / interpret / evaluate laboratory tests, perform quality control tasks, perform equipment maintenance, computer input / database maintenance. Specific tasks vary by profession.
Graduates work in:
Petri dish

Medical laboratories (hospitals and commercial)
Forensic (crime) laboratories
Biotechnology and industry laboratories
Veterinary and zoo labs
Public health laboratories
Research laboratories
Educational programs
Medical supply and pharmaceutical sales
Opportunities for advancement: Advancement may require additional education, but the opportunities are many such as:
Laboratory supervisor
Laboratory manager
Hospital administrator
Quality assurance coordinator
Infectious disease surveillance officer
Laboratory or hospital safety officer
Point of care testing manager
Information systems (computer) manager
Sales manager
Research principle investigator
Epidemiologist