HEALTHCARE BEHIND THE SCENES
Have you ever wondered where your laboratory results come from? Medical laboratory science is a field that people are often unaware of. When asked to name different occupations within the healthcare system, the first to come to mind are often physicians, nurses, and phlebotomists. These healthcare workers communicate directly with the patient, and they are often the only medical professionals that a patient sees during a wellness visit or hospital stay. However, the healthcare system is made up of a whole array of different healthcare workers working diligently behind the scenes to ensure quality patient care, as seen in the diagram below.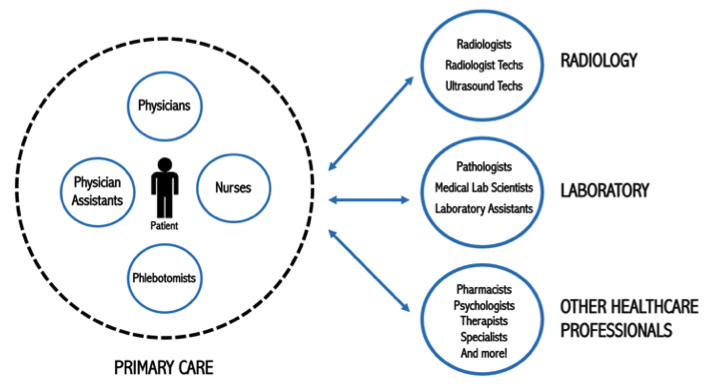 Whenever your physician requests you to have blood work drawn, a urine sample collected, or fluid or tissue biopsy taken, all specimens eventually end up in the laboratory for analysis. The medical laboratory is made up of a skilled team of pathologists, medical laboratory scientists and technicians, histologists, cytologists, and laboratory assistants all working together to analyze and report test results to your physician in a timely manner. By providing physicians with quick and accurate test results, the laboratory aids physicians in effectively diagnosing and treating patients.
EDUCATING TOMORROW'S LABORATORY INVESTIGATORS
The MALSE mission is to promote education in the field of laboratory science through outreach resources such as this website. Medical laboratory science is a growing field, and the demand for more laboratory professionals is at an all-time high due to multiple factors, including:
Aging patient population: Currently between the ages of 57 and 75 years old, the baby boomer generation is quickly reaching retirement age. This means that a large percentage of the U.S. population will soon be requiring more healthcare and medical laboratory testing.
Recent SARS-CoV-2 pandemic: The COVID-19 pandemic shed light on the need for quick and reliable laboratory testing. The amount of laboratory testing being performed has dramatically increased since the start of the pandemic, causing an increased need for even more laboratory professionals in the field.
New technologies: Groundbreaking research has led to the development of multiple new technologies used in the medical laboratory. These methods provide physicians with fast and accurate test results, allowing them to diagnose patients earlier and treat them quicker and more effectively than ever before.
If you are interested in learning more about this rewarding profession, MALSE invites you to continue exploring this website. Feel free to reach out to bld@msu.edu and we would be happy to answer any questions that you may have.